The Future Banking Summit conference escaped from Bucharest and this year happened in Brașov, between the 19 and 20 of October, hosted by the new and versatile Qosmo hotel, which is part of the urban regeneration project that includes Coresi Business Campus, Coresi Shopping Resort, and Cartier Coresi.
Thus, in a special setting, far from the "every day", the Future Banking Summit was the place where connections were made between people from banking, fintech and related industries, and the panels inspired the participants with new perspectives on how they report to businesses and made them aware of new trends and technologies, whether we are talking about digital transformation or cryptocurrencies.
The first day started with an overview of the economy by Dan Bucșa, Chief CEE Economist of UniCredit Bank AG (photo), and his ideas and observations centered around a very possible economic crisis. "Typically, consumers are cautious about the prospect of a financial crisis. But this time, paradoxically, the consumer believes that he, unlike the others, is ok from a financial point of view", was one of his original statements.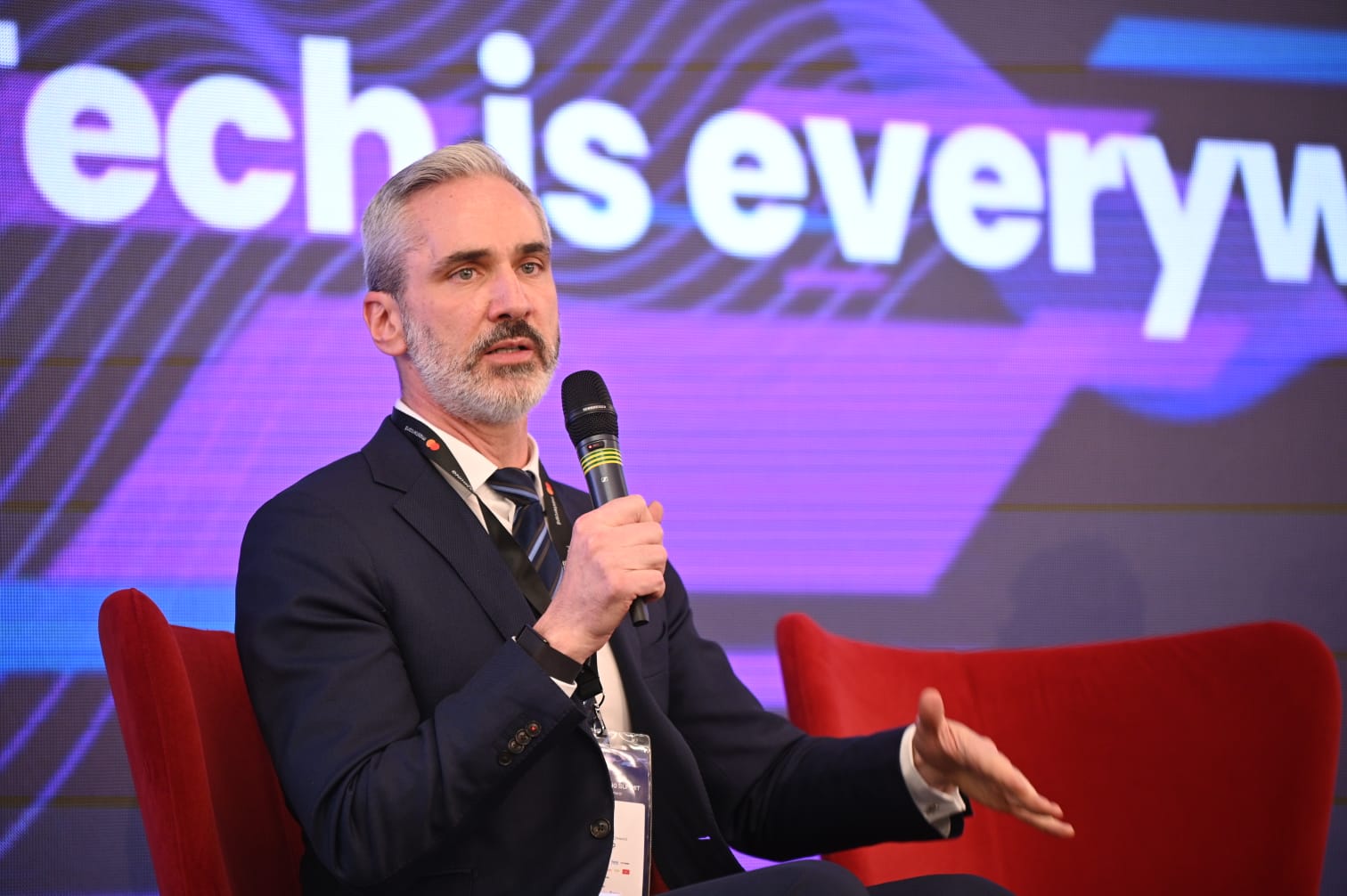 Consumers' expectations when it comes to digital banking were discussed in a panel where Paolo Madella, International Sales Manager, InfoCert Romania, Bogdan Popa, Vice President, Operations & Technologies of Raiffeisen Bank, Kostas Fiakas, Chief Strategy Officer of Inform Lykos, and Radu Ionescu, Product Management Director of MasterCard.
"We have a study that shows us that more than 50% of people use some form of digital payment. That's a big percentage, considering the part of the world we're in. So, it is our responsibility, those in the industry, to maintain this momentum. And from MasterCard's perspective, we strongly believe that biometrics and artificial intelligence are the next logical steps, towards which we will all invest time and resources", Radu Ionescu said in this regard.
Another interesting panel of the first day was the interactive speech given by Maria Cenușă, Managing Partner of ICG (Integrated Consulting Group), who proposed to the nearly 200 participants of the conference a reflection on the way companies can rethink, in an out of the box way, the way they attract new customers: "It is very important to have a concrete vision so that it focuses less on market-share and more on creating value for the consumer."
Also on the first day, Alina Ștefan, CEO of Salarium, Raluca Micu, Head of Payments Oversight Division of the National Bank of Romania, Magda Săndulescu, Executive Director of the Romanian Fintech Association and Cosmin Curticăpean, CEO of iFactor, spoke about the integration of digitalization and fintech in the security and payment systems in Romania, as well as about the future of this increasingly necessary phenomenon in our country.
+
The next day brought on stage a unique speech by Jamshid Alamuti (photo), one of the foreign speakers of the conference, Founder & CEO of Neural Jam: "There is a difference between leadership and management. Leadership is about people, management is about work. Some of you in the room, especially the younger ones, do a lot of management, but few of you are leaders. Think about it, because change comes through leadership," he provocatively began his speech, which you can watch here.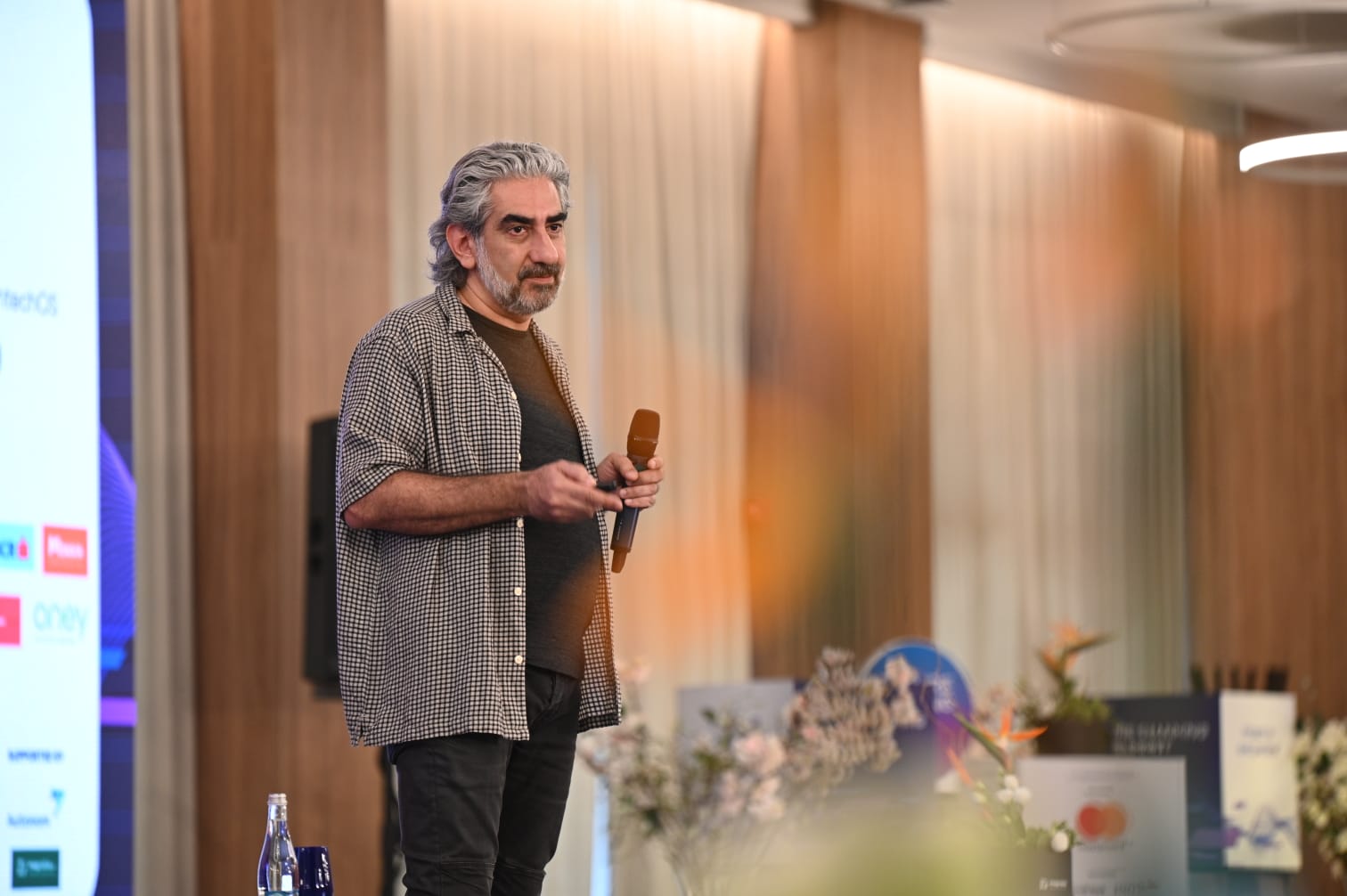 Another keynote speaker on the second day was Marcio Spinola, SVP Of Product of FintechOS, who spoke about "Making Banking Simpler". "We all need simplicity in our lives. How do we do that? When you see the core of your work, you get faster, and then that has a real impact on your customer. And that's all that matters at the end of the day," was one of Spinola's conclusions.
Daniel Pană, Sales Director of FintechOS, Oana Ilaș, Executive Director of Retail Product Development and Management of Banca Transilvania, Robert Anghel, Head of Strategy & Business Development of ING Bank and the same Marcio Spinola spoke about the challenges of digital banking. "The banking industry has changed in Romania. And that in a positive way. For example, all banks have salary cards in their portfolios and offer instant credit or mobile payments with a smartphone. The industry has transformed in the last three years. Is enough? I do not know. Is this transformation important to the customer? From my point of view, they reacted positively. And not only has the product offering accelerated but also the digital presence of banks has changed radically. In fact, today we are not talking about digital banks or not. All banks are, more or less, digital," said, among other interesting things, Robert Anghel.
A topic that gained momentum in the last years in Romania was around the new phenomenon BNPL (Buy Now, Pay Later), which was attended by Laura Vizir, CPO of tbi Bank, Alexandru Balaci, CEO of Revo Technologies and Jean-Michel Goncalves, CEO of Oney Bank. "BNPL is a marketing tool that retailers love. The credit card will never be as attractive a tool," Balaci replied to a provocative question from the audience, suggesting that BNPL could not have existed without physical cards.
+
Future Banking Summit is organized by futurebanking. ro. This year our partners were: Mastercard, UniCredit Bank, ING Bank România, Raiffeisen Bank, Infocert, FintechOS, Inform Lykos, iFactor, AriadNext, Namirial, Filip&Company, BCR, First Bank, Citi Romania, enfineo, Oney Romania, Mokka, Credex, Certsign, Salarium, ProCredit Bank, Autonom și Magnolia.ro. Supporting partner: Asociația Română de Fintech (RoFin.tech).
Photo credits: Ovidiu Udrescu