For the eighth time in a row, Gartner has recognised Vodafone as a Leader in its Magic Quadrant for Managed IoT Connectivity Services. Evaluation by Gartner reflects its view of Vodafone's completeness of vision and ability to execute.
Gartner says "Leaders invest in the future of IoT that includes a continuum of value from IoT edge devices to IoT platforms and related analytics. Leaders perform skillfully and often exceed expectations. Leaders have a clear vision of the market's direction and develop competencies to maintain their leadership. Leaders engage customers and provide value across multiple geographies. They shape the market, rather than follow it, and they often set the benchmark for market growth. Leaders have the size and scale (for example, operations, sales and marketing, formal bid, and product management) to pursue large pan-regional and multinational opportunities for IoT connectivity. They have established a robust and diverse ecosystem of technology alliances and service delivery partnerships spanning IT, OT and IoT to meet broad market requirements."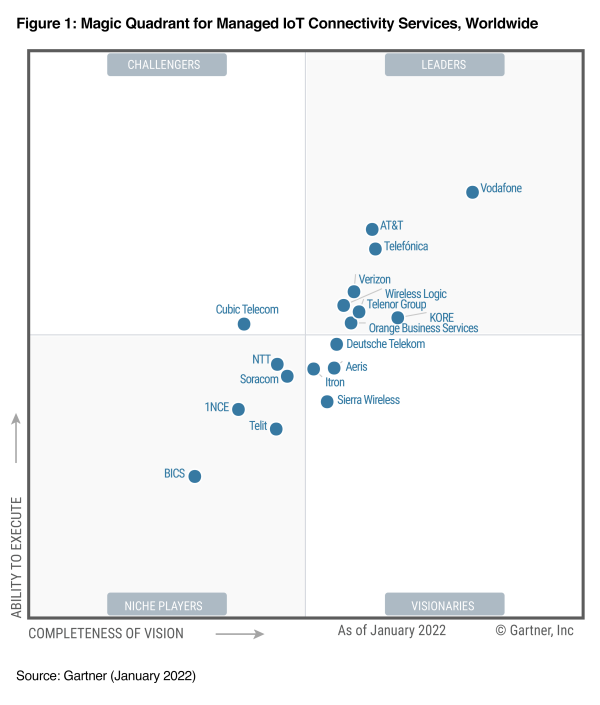 Of the 18 vendors included in the Magic Quadrant, we are again placed highest for both "completeness of vision" and "ability to execute".
Erik Brenneis, CEO of Vodafone Business IoT, said: "IoT has become an essential operational asset, as critical as electricity for businesses all over the world. As digitalisation continues to accelerate, we will continue to offer our IoT customers the global reach, quality of service and operational support they need to maximise their efficiency, optimise their operations and minimise their impact on the environment."
Vodafone Business is continuing to deliver IoT connectivity and solutions to a wide of range of customers - whether it's helping Controlant reinvent the cold chain for temperature sensitive COVID-19 vaccines and food with real-time monitoring; revolutionising manufacturing with Ford through 5G private networks; or providing farmers with IoT-based agriculture solutions to help sustainable farming.
Over the last year, Vodafone Business has continued to:
Grow its IoT business, with connections up over 20% in the past 12 months (112 million in H1 FY21 compared to 136 million in H1 FY22)
Drive innovation in IoT, improving customers' resilience and helping them to remain competitive, deliver innovative connected products to their customers and create new revenue streams. Areas of innovation include redefining quality of service, pioneering the use of SIM-as-a-Platform, driving the use of video analytics and visual IoT, laying the groundwork for 5G for IoT, and creating fresh commercial models for IoT customers
Help its business customers reduce their own carbon emissions, committing to a cumulative total of 350 million tonnes globally over ten years between 2020 and 2030 – equivalent to Italy's total annual carbon emissions for 2019. Vodafone's IoT services will deliver most of this saving for customers, for example by improving the efficiency of their logistics and fleet management, smart meters and manufacturing.
Expand into operational IoT with its end-to-end (E2E) solutions. It now has centres of competency in automotive, e-health / remote monitoring, agri-tech and manufacturing.
The full report from Vodafone Business is available here.
Photo credit: Illustration 95669118 © Polegaevmark | Dreamstime.com